Home

/

BVX LS 200 SAE 80W90
Mineral lubes Mineral - BVX LS 200 SAE 80W90

BVX LS 200 SAE 80W90
Gearboxes / beam axles
3408

Mineral

Viscosity :

80W90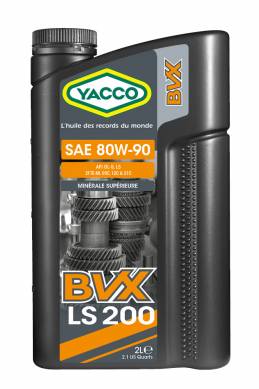 Approvals
ZF TE-ML 05C, 12C and 21C
Specifications
API GL5
LS (Limited Slip)
BVX LS 200 far exceeds the performance levels above.
Available packing sizes
| | Référence | Conditionnement | Carton |
| --- | --- | --- | --- |
| 2L can | 3408 | 24 | 02 |
| 20L barrel | 3408 | 13 | 00 |
| 208L barrel | 3408 | 06 | 00 |
Descriptions
Yacco BVX LS 200 SAE 80W90 is a high-quality mineral oil for limited-slip differentials.
Specifically designed for 4WD vehicles. Lubrication of limited-slip differentials in sports and racing cars, lorries, construction equipment and agricultural equipment, where SAE 80W90 LS grade oil is recommended by the OEM. Especially developed for limited-slip differentials in 4WD vehicles.
It may be used in conventional differentials where API GL-5 extreme-pressure, SAE 80W90, SAE 85W90 or SAE 90 oil is recommended.
Properties and advantages
Specific formula with friction modifiers allow chattering free operation of friction systems.
Good fluidity at cold temperatures provides fast lubrication upon start-up in cold weather.
Very good protection against rust and corrosion and high thermal stability, extending the service life of gears and bearings.
Effective protection of hypoid gears.
Excellent multigrade properties: developed for limited slip differentials, its additives mean it can be used with many other transmissions, such as conventional differentials, axles, reducers, etc.